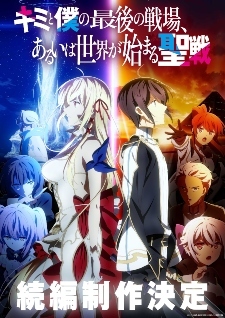 Situs web resmi adaptasi anime televisi dari novel ringan Kimi to Boku no Saigo no Senjou karya Kei Sazane, Aruiwa Sekai ga Hajimaru Seisen (Our Last Crusade or the Rise of a New World) mengumumkan pada hari Jumat bahwa sekuelnya sedang dalam produksi.
Musim pertama, diproduksi oleh Silver Link., ditayangkan selama 12 episode dan ditayangkan perdana pada Musim Gugur 2020. Funimation menayangkan anime dengan subtitle dan dub bahasa Inggris saat masih ditayangkan di Jepang.
Sazane mulai menulis novel ringan genre action fantasy pada Mei 2017 dengan ilustrasi dari Ao Nekonabe. Fujimi Shobo menerbitkan volume ke-11 pada 20 Mei. Sebuah adaptasi manga oleh okama dimulai pada Mei 2018 dan selesai pada 20 Maret. Hakusensha mengirimkan volume ketujuh dan terakhir pada 28 April.
Source : Myanimelist