Pengembang game Taiwan UserJoy Technology mengumumkan adaptasi anime televisi dari game role-playing Huanxiang Sanguozhi (Gensou Sangokushi atau Fantasia Sango) pada hari Jumat. Anime ini akan tayang dengan judul Gensou Sangokushi: Tengen Reishinki pada Oktober 2021.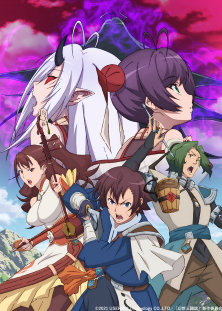 Kisah Gensou Sangokushi: Tengen Reishinki diatur selama periode Tiga Kerajaan di Cina, di mana berbagai panglima perang dan tentara mereka berusaha untuk menaklukkan dan menyatukan bangsa. Perjuangan para pahlawan bela diri yang perkasa ini menarik perhatian Raja Mouryou, penguasa mengerikan dari roh-roh jahat, yang ingin memperpanjang konflik dan menghancurkan dunia manusia.
Untuk menentang kejahatan Raja Mouryou, sebuah organisasi bernama Tengen membentuk pasukan anti-Mouryou yang berperang di seluruh China, tetapi ketika korps anti-Mouryou ke-6 tiba-tiba dimusnahkan, sekelompok petualang berkumpul untuk menggantikan mereka. dan untuk membentuk korps anti-Mouryou ke-6 yang baru. (Sumber: Crunchyroll)
Ouki: Kensho Ono (RErideD: Tokigoe no Derrida)
Shourei: Hisako Kanemoto (Ryuuou no Oshigoto!)
Shunkyou: Mai Nakahara (Higurashi no Naku Koro ni)
Teiken: Makoto Furukawa (Dr. Stone)
UserJoy Technology merilis angsuran pertama dari permainan pada tahun 2003. Seri role-playing ini didasarkan pada teks sejarah Luo Guanzhong Romance of The Three Kingdoms, menggabungkannya dengan elemen fantasi yang khas. Serial ini telah terjual secara kumulatif 2 juta kopi pada angsuran kelimanya.