Situs web resmi untuk adaptasi anime televisi dari manga Saizou Haratawa dan Miyako Kashiwa Deatte 5-byou de Battle (Pertempuran dalam 5 detik setelah pertemuan.) Pada hari rabu kemarin mengungkapkan staf utama, pemeran, artis lagu tema, visual utama (foto), dan teaser video promosi. Anime ini dijadwalkan tayang perdana pada 13 Juli pukul 12:00 di Tokyo MX dan BS11.
Pemeran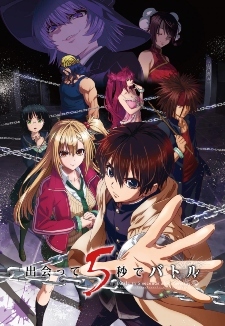 Akira Shiroyanagi: Ayumu Murase (Bishounen Tanteidan)
Yuuri Amakage: Aimi (BanG Dream!)
Mion: Mayumi Shintani (Kill la Kill)
Madoka Kirisaki: Kazuya Nakai (Enen no Shouboutai)
Shin Kumagiri: Yuuichi Nakamura (Dr. Stone)
Ringo Tatara: Miyuri Shimabukuro (Granbelm)
Yang: Akari Kitou (Shadows House)
Staf
Direktur Utama: Mea Naitou (Princess Principal storyboard)
Sutradara: Nobuyoshi Arai (Banana Fish episode director)
Komposisi Seri: Touko Machida (Tenkuu Shinpan)
Desain Karakter: Tomokatsu Nagasaku (Show by Rock !! Stars !!), Ikuo Yamakado (Ushinawareta Mirai wo Motomete)
Produksi: Shogakukan-Shueisha Productions, Studio A-CAT
Produksi CG: Studio A-CAT
Studio: SynergySP, Vega Entertainment
Akari Kitou membawakan lagu tema pembuka "No Continue." Duo 15-sai to Seiko Oomori, yang terdiri dari Hinano Takashima (Deemo the Movie) dan Seiko Oomori (penampilan tema pembuka Black Clover), akan membawakan lagu tema penutup "Makeibe Jikkyou Play."
Haratawa dan Kashiwa mulai membuat serial manga aksi survival di majalah Ura Sunday pada Agustus 2015. Shogakukan menerbitkan volume ke-16 pada 18 Maret.
Source : Myanimelist
Grosir dan Retail Figure, Toys, Gundam, Clothing, Merchandise, etc
Jalan Sindunegaran No.10 (Sebelah Selatan SD Tarakanita) Bumijo, Jetis, D.I Yogyakarta, 55231
=========================
#Animemovies #cgv #violetevergarden #violetevergardenmovie #kyoani #kyotoanimation #japannews #animenews #figure #animefigure #figureanime #tokoanime #tokoanimejogja #tokofigurejogja #tokomainanjogja #shf #figma #nendoroid #revoltech #luffy #sasuke #figureshop #actionfigure #marvel #thousandsunny #gundam #modelkit #koleksi #kaosanime #figureanimemurah #figurejogja #vocaloid #dragonball #extaliahobbies