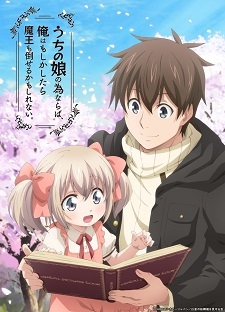 Situs resmi Uchi no Ko no Tame, Ore wa Moshikashitara, Maou mo Taoseru kamo Shirenai
mengungkapkan pengisi suara pendukung, staf tambahan, video promosi pertama, dan visual k
ey
ketiga pada hari Jumat. Adaptasi anime televisi dari novel
fantasy slice of life
CHIROLU
akan tayang perdana di Tokyo MX, BS11, Tochigi TV, dan chanel J: COM TV mulai Juli 2019
.
Pengisi Suara:
Kenneth: Tsuyoshi Koyama (Zero kara Hajimeru Mahou no Sho)
Rita: Manami Numakura (Uchi no Maid ga Uzasugiru!)
Chloe: Yuuki Kuwahara (Kobayashi-san Chi no Maid Dragon)
Silvia: Marika Kouno (Mitsuboshi Colors)
Rudy: Mutsumi Tamura (Darling in the FranXX)
Marcel: Yuuki Hirose (High Score Girl)
Anthony: Katsumi Fukuhara (Isekai wa Smartphone to Tomo ni).
Prop Desain
: Tomihiko Ookubo (
Toaru Hikuushi e no Tsuioku key animation
), Moe Kodama (
Yuri!!! on Ice key animation
), Yuuko Ooba (
Yuru Camp△ in-between animation
), Touko Koike (
Nijiiro Days in-between animation
)
Desain Warna: Aki Watanabe (Black Blood Brothers)
Sutradara Kesenina, Setting Kesenian: Satoshi Shibata (Black Bullet)
Sutradara Fotografi: Yuujirou Yamane (Mahou Shoujo Site)
Editing: Hiromi Komine (Bakuon!!)
Sutradara Suara: Masaki Tsuchiya (Gokukoku no Brynhildr)
Musik: Kouta Yokoseki (Hyakuren no Haou to Seiyaku no Valkyria)
Kanon Takao
, yang mengisi suara karakter utama wanita Latina, akan membawakan lagu tema pembuka "I'm with you."
Takeyuki Yanase
(Isekai wa Smartphone ke Tomo ni.) Sedang mengarahkan anime di Maho Film dengan naskah karya Takao Yoshioka (Zero no Tsukaima). Miyako Nishida (Soredemo Machi wa Mawatteiru), Toshihide Masudate (Futari Ecchi (2014)), dan Kaho Deguchi (Cutie Honey Universe) semuanya melayani sebagai perancang karakter dan direktur animasi utama.
CHIROLU
meluncurkan novel di situs Shousetsuka ni Narou pada Agustus 2014. Hobby Japan menerbitkan volume pertama dengan karya seni oleh Truffle pada Februari 2015. Volume berikutnya menampilkan desain oleh ilustrator Kei. Volume kedelapan dikirimkan pada 22 Februari.
Adaptasi manga oleh Hota. telah diserialisasikan dalam layanan web manga ComicWalker sejak Juli 2016. Kadokawa menerbitkan volume
tersusun
keempat pada Agustus 2018. Light Novel dan volume manga yang digabungkan memiliki 500.000 salinan kumulatif yang dicetak. J-Novel Club melisensikan light novel dalam bahasa Inggris pada Mei 2017 untuk rilis digital dan menerbitkan volume ketujuh Agustus lalu. Seven Seas Entertainment menerbitkan manga di Amerika Utara dan merilis volume ketiga pada 16 April.
PV.